---
Don LeFever's 1979 Lil' Red Express
Return
---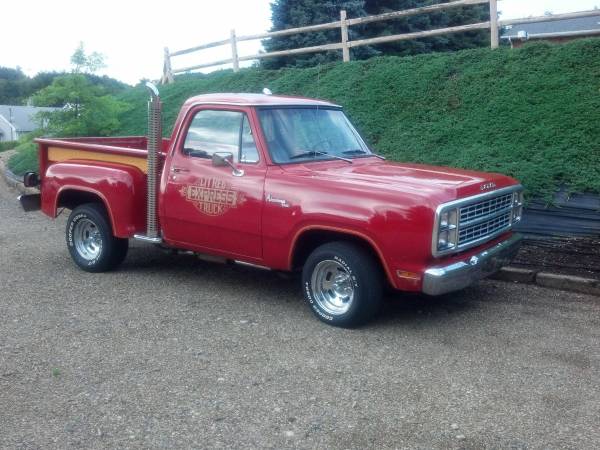 Back in the late 70's when gas prices were up and power was down, Dodge made one last effort to offer a little performance to the American public. Enter the Lil Red Truck Express. A limited run of Adventurer 100 series pick-ups with a flair all their own.
Obviously, they were all red with gold graphics denoting that they were 'Lil Reds' and wood accents on sides and rear of the step side box. Chrome "slot mags" and 60 series raised white lettered were the rolling stock and power came from a special performance 360 with a Carter Thermo-quad four barrel. The 360 was backed up with a 727 automatic and a nine and a quarter in Dana with 3.55:1 gears (Sure-Grip optional). The icing on the cake, however, was the dual exhaust. Not just any dual exhaust but two chrome stacks coming up through the front box step just behind the doors. Not only did they look good, the sound made you just want turn off the radio and roll the window.
Don got this survivor truck out of Pennsylvania from a guy who wanted some cash finish another truck. It's originally from the Northwest where rain is plentiful and salt is rare and it's just so clean and rust free that making it show quality will be easier than most. Little by little she'll get everything she needs but for now, she's a nice driver that goes down the road clean and straight.


---