---
Dan Davis' 1983 Honda CB1100F
Return
---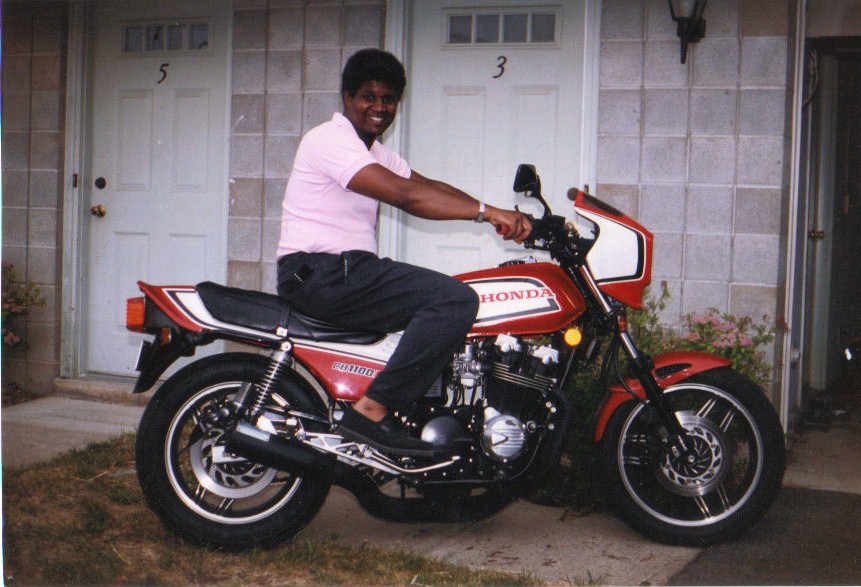 Before the fast motorcycles earned the name "Crotch Rocket", they were refered to as simply "Super Bikes" and Honda's premier Super Bike for 1983 was the CB1100F.Modeled after Honda's Cafe racer, the CB1100F seemed to be the closest thing you could get to a road racing bike without actually having one.
It's road manners are exceptional due it's massive amount of low-end torque and with it's in-line 4-cylinder engine producing over 100 horsepower, 11-second 1/4 miles are easily attained as well as top speeds of over 150 miles an hour. The relatively low 9,500 RPM red line comes up fairly quickly when you're rolling on the throttle and a quick shift rewards you with a 4 to 6 inch high wheelie that lifts and sits back down with no help from the driver required and even though it can be a little unsettling at 105 miles an hour (when you shift out of third gear) it's surprisingly predictable and you get used to it in a relatively short amount of time.
On the open road, this bike is effortless. There's very little need for down shifting to ride through villages or even passing as it carries high gear without issue even at engine speeds below 2,000 RPM. The cornering is clean and precise and powering out just takes a soft roll of the wrist to come out clean and strong. If anything, you should be concered about applying too much wrist because it'll lift the front wheel if you're too liberal with the throttle. All in all, this machine will serve you well as a short distance touring bike and especially as a high performance bike but there are a couple of draw backs. If you're riding over a hundred miles at a time, this bike lacks the comfort for that kind of cruising (that's why they make Harleys) and fuel economy is somewhat dismal. It's a lot easier to get 150 miles an hour out of this bike than it is to get 45 miles a gallon but if you ride the way the bike was intended, that gallon will be good to the last drop.


---