---
1973 Dodge Charger
Return
---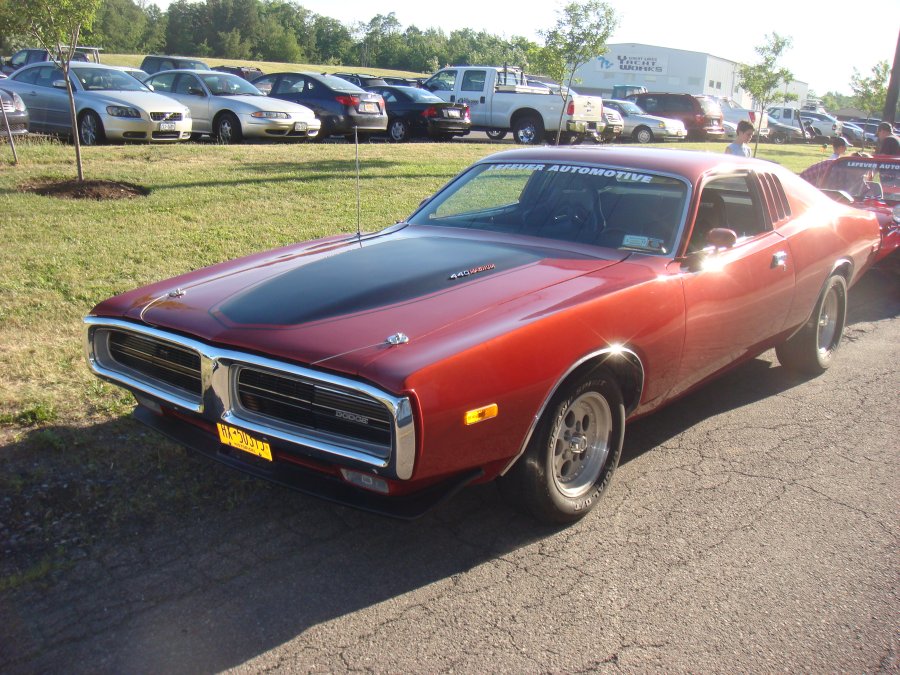 If ever there was a car that screamed American Muscle, it was a Dodge Charger. Now, I'm not talking about the new 4-door thing that's available today (though it is a nice enough car - with the wrong name), I'm talking about the big 2-door, high powered and seemingly impracticle super cars of the 60's and 70's. Take a Dodge Charger with a 440 Magnum, bucket seats, console and a Pistol Grip 4-speed or a Slap Stik automatic and you are in muscle car 7th heaven.
Don was looking for something nice to add to the fleet that would be good for long distance cruising, you know, big... roomy and Richard Hammond from Top Gear gave him the perfect idea! (a "Daadge Chaaja")
Now, you're rarely going to find exactly what you're looking for unless you're willing to spend STUPID money for a total restoration car and why would someone who builds cars do that? Right? Exactly, so Don found himself fairly nice '73 Charger that was a solid "turn-key" car that was in the neighborhood of what he wanted to start out with. This Was a bucket seat Slap Stik car with a 440 Magnum and a "Sure Grip" rear end with 4.10 gears.
Now, though this car was a good place to start, it wasn't exactly (or even close to) what Don was looking to use the car for. Let's face it, if you have a high compression 440 and 4.10 gears, you pretty much plan on a car being a bit of a quarter horse. Don is planning to do more Drive-Thru's than drag strips so there has to be drive line changes to make this car more of a cruiser. Next on the list, the car was all one color, bumpers and all. Now, a Dodge Charger is waaaayyy too big to be all one color no matter what that color happens to be, so this car will need to be broken up a bit to give it "the look".
He wasn't looking to make drastic cosmetic changes because this is a solid recently painted car,but with a car like this a little change goes a long way. The addition of chrome bumpers, chin spoiler,trunk lid "T" spoiler and Hide-A-Way head lights, took the car to the next level. Even with these changes there was still something missing. OF COURSE! the hood. The Power Buldge was just blending in so he had Jeff Smith come in and accent the hood and add the 440 MAGNUM badges and now the hood just jumps out at you. This summer, there are plans to add a vinyl top to finish out the new look and paint the quarter window covers to match.
The drive line has been upgraded to make this racer more of a cruiser. The 440 was treated to a brand new pair of aluminum heads to make it more pump gas friendly as well as improve the front to rear balance ratio. The Chrysler 727 tranny was replaced with a GM 700R-4. The lower first gear coupled with overdrive gives car a better overall gear pattern. The 8 and 3/4 MOPAR rearend makes for easier gear changes which came in handy when he swapped the 4.10's for more highway friendly 3.23's. Now that there's an overdrive tranny in the drive line, there may be another gearing change in the Charger's future.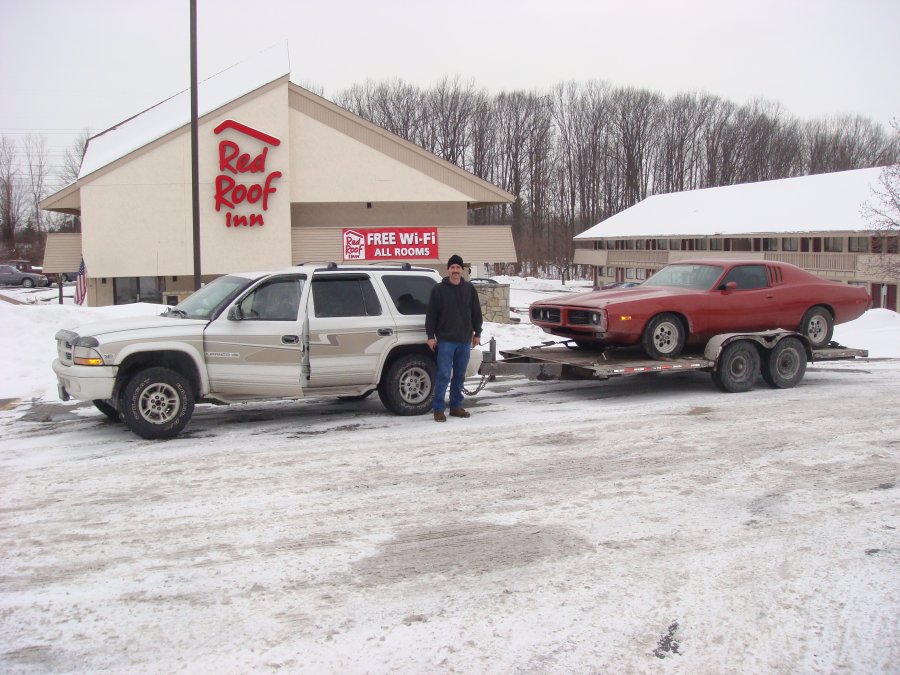 ---